We love coming to work every day, especially when we get to work with this entertaining group of misfits!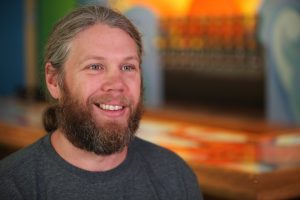 Craig
Craig has always had a love for beer, as required by any good Canadian. As a transplant from Canada over 13 years ago, Craig fell in love with the ocean, beaches, fishing and everything Florida has to offer. His infatuation with home brewing began years ago with a home brew kit given to him as a gift. Brewing soon overcame the tiny apartment that Craig and Cheryl lived in, as well as their lives! His craft has quickly evolved over the years to produce great beers that has all of the locals talking about them!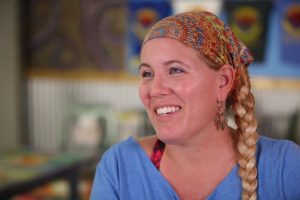 Cheryl
Owner, Creative Powerhouse
Cheryl is the epitome of an island babe and has saltwater running through her veins. Her libation of choice would be Run Aground Brown Ale, since she's run many of grounds! However, North Coast Brewing's Old Rasputin on nitro dispense has stolen her heart. Cheryl's mantra is "BEER AND BABIES FOR LIFE!" and she already has the superpower of making mean people nice. Cheryl would make the most perfect mermaid, because what else is there? Her luscious locks were once compared to a horse's mane, but horses are gross and don't hold a candle to her! Cheryl's coolest adventure brought her to Newfoundland, Canada, where there are thankfully no people and an excess of moose.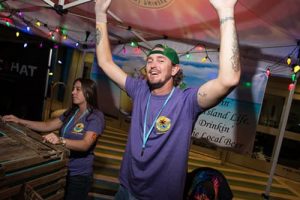 Mike
Mike moonlights as Mr. Iwanna Iguana, bringing the Good News of our Iguana Bait and Brews to South Florida! He's easy to spot with his painted toes and patterned shorts, but his favorite accessory would have to be his endless onesie collection.
Dallas
Hailing from the hard working region of Pennsyltucky, Dallas is an international man of mystery and questionable life choices. He loves beer too much to even think about picking a singular favorite. He occasionally leaves the brewery just to dive the vibrant barrier reef. Dallas is the devoted photographer of Purr Monsterr's adventures at FKBC. Check out his work on Instagram @purrmonsterrfkbc
Nicole
Fleeing the cold of Ann Arbor, MI, Nicole moved for an internship at REEF and decided to make the Keys her permanent home. Her most beloved FKBC beer is Tripel Tail as it's dangerously delicious and full of puns. She loves to indulge in a bottle of Delirium Tremens (pink elephants courtesy of Dumbo). Nicole is pretty much a water nymph and keeps herself active with underwater hockey, underwater rugby, freediving, spearfishing, scuba diving, kiteboarding… anything to do with being in the ocean! If she could have any superpower, she'd be impervious to being bent and be able to breathe underwater. She's dying to go wrassle the giant squid in the depths of the Mariana Trench. Her next reincarnation will totally be a cuttlefish (cuddlefish...).
Sara
A Keys babe from Tavernier, Sara has a deep passion for sour beers. She adores FKBC's Pucker Power Hibiscus Key Lime Sour (a collaboration brew with Coppertail Brewing from Ybor City!) and loves how Ommegang's Pale Sour Ale is an easy-to-find delicious treat. She also works as a junior media buyer for a sweet company called Native Path from California. She loved skydiving so much, that flying would be her superpower of choice. It'd be so much easier to travel that way! In another life, she would definitely be a housecat. Sleep. Eat. Lounge. Get pet. Repeat. One of Sara's favorite adventures was in Isla Mujeres in Mexico; it is not Americanized yet and you can only get there by ferry! But she also just got back from an epic trip around Europe, so ask her about that too!
Alex
Alex is a south Florida native with a keen ear for some funky tunes. He's equally great with a quick turn of phrase and a dirty joke. Alex will travel just about anywhere for a great music fest.
Purr Monster
Sweet Purr Monster arrived at our door a month after Halloween in 2017 and made herself right at home. She patrols the brewery, taproom, and beer garden to ensure everyone is having a wonderful time and has a beer in their hand. The wild chickens and iguanas can't escape her keen gaze while she lounges in the shadiest spots in the garden. Her adventures are well documented on Instagram at @purrmonsterfkbc. She's handsomely paid for her services, while enjoying a bountiful supply of catnip and cuddles.