We love coming to work every day, especially when we get to work with this entertaining group of misfits!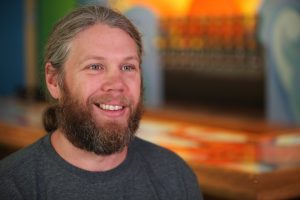 Craig
Craig has always had a love for beer, as required by any good Canadian. As a transplant from Canada over 13 years ago, Craig fell in love with the ocean, beaches, fishing and everything Florida has to offer. His infatuation with home brewing began years ago with a home brew kit given to him as a gift. Brewing soon overcame the tiny apartment that Craig and Cheryl lived in, as well as their lives! His craft has quickly evolved over the years to produce great beers that has all of the locals talking about them!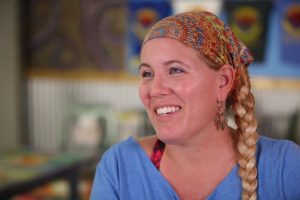 Cheryl
Owner, Creative Powerhouse
Cheryl is the epitome of an island babe and has saltwater running through her veins. Her libation of choice would be Run Aground Brown Ale, since she's run many of grounds! However, North Coast Brewing's Old Rasputin on nitro dispense has stolen her heart. Cheryl's mantra is "BEER AND BABIES FOR LIFE!" and she already has the superpower of making mean people nice. Cheryl would make the most perfect mermaid, because what else is there? Her luscious locks were once compared to a horse's mane, but horses are gross and don't hold a candle to her! Cheryl's coolest adventure brought her to Newfoundland, Canada, where there are thankfully no people and an excess of moose.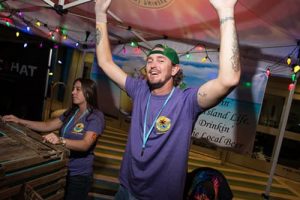 Mike
Mike moonlights as Mr. Iwanna Iguana, bringing the Good News of our Iguana Bait and Brews to South Florida! He's easy to spot with his painted toes and patterned shorts, but his favorite accessory would have to be his endless onesie collection.
Mike
A Native Conch, Mike is always up for an adventure. When he's not slinging beers, he likes to spend his time thrill seeking by surfing & skydiving. If Mike could have any superpower, he would be a time-traveler (so he could adventure even more). Mike's always down to try new beers but if he had to choose a favorite, he'd pick Lunch IPA from Maine Beer Co.
Nicole
Fleeing the cold of Ann Arbor, MI, Nicole moved for an internship at REEF and decided to make the Keys her permanent home. Her most beloved FKBC beer is Tripel Tail as it's dangerously delicious and full of puns. She loves to indulge in a bottle of Delirium Tremens (pink elephants courtesy of Dumbo). Nicole is pretty much a water nymph and keeps herself active with underwater hockey, underwater rugby, freediving, spearfishing, scuba diving, kiteboarding… anything to do with being in the ocean! If she could have any superpower, she'd be impervious to being bent and be able to breathe underwater. She's dying to go wrassle the giant squid in the depths of the Mariana Trench. Her next reincarnation will totally be a cuttlefish (cuddlefish...).
Megan
Meg comes to us from Phoenix Arizona, Her Favorite place she's ever visited are the Waterfalls in the beautiful woods of Asheville. Meg's free spirit enjoys a good motorcycle ride when she's not beertending. If she could have any superpower, she'd FLY so she could explore all the places on this tiny planet. Megan's beer of choice would be Tropical Lightening IPA from Wilmington NC Brewing Co.
Vicki aka Tori
While Tory was born in Kentucky, she's lived here almost all her life she's quiet the Conch. Tori's favorite beer to enjoy is a frosty Iguana Bait made by yours truly. If she could have any superpower, it would be Invisibility so she could hide from having to adult. Her favorite place is Pisgah National Forrest in Asheville NC and If she were reincarnated, she'd be a spoiled house kitty… perhaps a spoiled brew house kitty.
Jardin
Jardin's all the way from Gold Coast Australia, He's been brought to us because of his love of the ocean and spearfishing. If he could choose any superpower, it would be to chat with animals. Jardin's favorite brew to enjoy is our very own Sun Session IPA.
Shelby
Shelby comes to us from a small town in Maine. When she's not running around the brewery, she enjoys taking her dogs to the mountains for some hiking and camping. If she could choose any superpower, it would be to teleport! So, she could explore even more places like the Fairy Pools on Isle of Skye one of her favorite places she's ever been. If she had to pick a favorite beer, it would be Peanut Butter Jelly Time (Strawberry Rhubarb) from Catawba Brewing.
Gabby comes to us from Athens, Georgia. Her beer of choice is Dominga Mimosa Sour from New Belgium Brewing Co. Gabby enjoys dancing with good friends and fun music. Often her playlists are favorites in the taproom. Her favorite place she's ever been is New Zealand. If Gabby could choose any superpower she would chose invisibility so it'd be easier to sneak into rad places (probably to dance the night away).
Purr Monster
Sweet Purr Monster arrived at our door a month after Halloween in 2017 and made herself right at home. She patrols the brewery, taproom, and beer garden to ensure everyone is having a wonderful time and has a beer in their hand. The wild chickens and iguanas can't escape her keen gaze while she lounges in the shadiest spots in the garden. Her adventures are well documented on Instagram at @purrmonsterfkbc. She's handsomely paid for her services, while enjoying a bountiful supply of catnip and cuddles.
Brandon's native to Philadelphia but was brought to us by his love of diving. Which is why if he could choose any superpower it would be to breath underwater so he could explore more. Brandon's beer of choice is Heady Topper IPA from the Alchemist but he REALY loves a good Bushwhacker from Lorelei.