Below is a comprehensive list of beers we have brewed throughout the years. This means that the beers listed here may not be available on draft at the time of your visit to our taproom. It also means we might have some new, experimental beers available that are not listed here! Either way, get ready to enjoy the Island Life and Local Beer with us!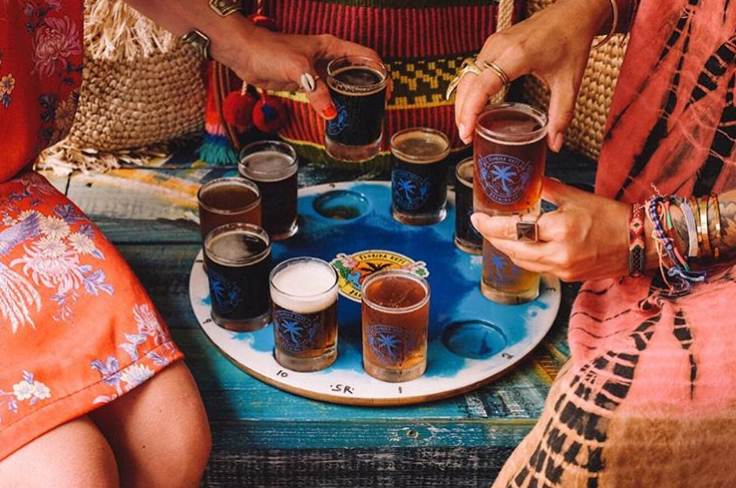 IGUANA BAIT
5.2%, 20.4 IBU | A honey hibiscus kolsch made with local Keys honey and hibiscus. A light, refreshing, keezy breezy beer with sweetness from the honey and a slight tart fruitiness from the hibiscus. Kolsch is a traditional German-style beer hailing from Cologne, made using only barley, hops, water and yeast. We completely destroyed the purity law and complimented a German-style kolsch with honey and hibiscus. We named it Iguana Bait because the local iguanas' favorite meal is big beautiful hibiscus flowers.
HONEY BOTTOMED BLONDE
5.8%, 26.1 IBU | Who doesn't like a honey bottomed blonde? Made with local Keys honey, every batch is unique as the bees gather pollen from seasonal flowering plants to make their honey. Mangrove, Jamaican dogwood and wild flowers are some favorites for the local bees. This light, crisp American blonde ale has a smooth honey finish and is a staff favorite.
BAYSIDE COFFEE BLONDE
5.8%, 26.1 IBU | Named after our favorite blonde Amanda at Bayside Gourmet, who inspires and feeds our coffee addiction, and brought to life with help from the coffee creative guru that is Ela, this blonde ale brims with cold-brew buzz. Smooth, easy to drink, and downright delightful, we cannot get enough of this delectable ale.
WEEDLINE WHEAT
5.1 %, 24.5 IBU | An American wheat beer with moderate hop bitterness. This is a perfect light boat beer that you might enjoy while trolling for mahi along a weed line. And no, it's not something you roll up and smoke. A weed line is a large cluster of Sargassum seaweed where pelagic and bait fish love to hang out and swim.
QUEEN OF THE SOUTH
5.1%, 18.7 IBU | Key West is known for many things, but we wanted to recognize the beautiful and talented Queens of the Southernmost City. Our Queen of the South is a vanilla cream ale with a smooth, sweet, sassy finish.
LOCAL GRASS
6.0% ABV 20.4 IBU | Hailing from a secret stash of local grass hidden one island north, zesty fresh lemongrass compliments the spicy, fruity notes prevalent in this Belgian-style saison.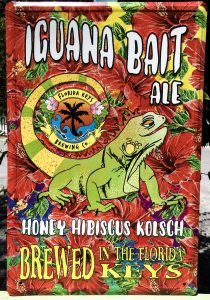 SUN SESSIONAL IPA
5.1%, 42.1 IBU | A full flavored, low alcohol IPA with a citrus hop character. It has a wheat base to give it an added smooth mouthfeel. This is the gateway beer to IPAs. The ABV may be low but, the IBUs are high enough to achieve a delicious hoppy flavor. Sunsessional IPA is perfect for having fun in the sun.
BALE BEACH
6.4% 44.7 IBU | Yes, there just happens to be a beach about 5 miles from here with the nickname Bale Beach. Why? Back in the 70s this was a popular beach to find bales that washed ashore. An American pale ale with a heavy dose of classic c-hops.
KRITTER
7.4%, 67.4 IBU | A traditional American IPA with a big, hoppy flavor. A Keys "kritter" is how we describe a large population of locals: big, hairy and sometimes with a bold odor. Most kritters spend their days on the water and soaking up sunshine.
SMELLY BUTT
7.4%, 67.4 IBU | ​Our Kritter IPA brewed with ripe pineapples. How do you pick out a ripe pineapple? You smell its butt, of course! Hence the name smelly butt.
GRAPEFRUIT TO BE ALIVE
7.4%, 67.4 IBU | Brewed right after Hurricane Irma, we were grateful to be alive and well and in possession of a surplus of ripe grapefruits! We added these juicy grapefruits to our Kritter IPA for a bitter, hoppy delight.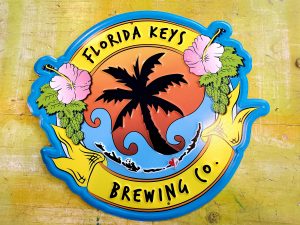 SPEARFISH AMBER
5.4%, 29.6 IBU | A well-balanced American amber, with a sneaky hop backbone. Spearfishing is a popular sport amongst locals, and a favorite target would be the delicious hogfish. Remember, kiss my wrasse!
HURRICANE HOLE
5.3%, 24.9 IBU | This Irish red ale has a deep copper red color, with low bitterness and a sweet, smooth finish. Is there a hurricane coming and your boat is too big to take out of the water? Put it in a mangrove hole and tie it off securely, it should be safe in the Hurricane Hole.
SHENANIGANS
5.3%, 24.9 IBU | With hints of caramel and toffee, our Hurricane Hole Irish red ale has been barrel-aged in Jack Daniels whiskey barrels for a delectable finish. This is a brewer's favorite, so get it while you can!
RUN AGROUND
5.4%, 23.6 IBU | A medium bodied, malt-forward brown ale brewed with oatmeal. It features a silky mouthfeel and hints of chocolate and vanilla. This is a much-loved staple here at FKBC. Brown, brown run aground. Blue, blue sail on through. White, white you might spend the night. Remember this little rhyme if you ever need to navigate through the waters surrounding the Keys!
COFFEE BROWN
5.4%, 23.6 IBU | Our Run Aground Brown was feeling a little sleepy and needed a boost. We enlisted Ela's coffee expertise and produced this scrumptious cold brew coffee brown that will add some pep to your step!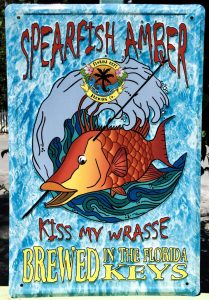 SMUGGLER'S MOON
6.0%, 35.9 IBU | If you're a smuggler, the best time to ship goods is the night of the New Moon. We call it a Smuggler's moon because the night is pitch black, just like this yummy oatmeal stout.
PORTER'S STOUT
5.8%, 44.4 IBU | No, we are not confused and yes, we do know our beers. It's Porter's stout! Named after Porter, a big black furry hunk of love. Porter is our sweet black lab who thinks he is a lap dog at 110 lbs, so we rarely bring him to the brewery. A full bodied American Stout with rich, roasty coffee and chocolate notes brings his love to life.
RUM SMUGGLER
6.0%, 35.9 IBU | We aged our creamy Smugglers Moon oatmeal stout in rum barrels from the Key West Distillery.
BEAN ME UP, SCOTCHY
6.5% ABV 35.9 IBU | Inspired by the sweet chocolate notes in Smuggler's Moon, we've aged vanilla beans in Johnnie Walker Double Black Blended Scotch Whisky and added them to our smooth oatmeal stout.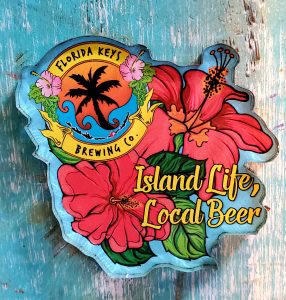 PUCKER POWER
3.8% | Originally brewed with the wonderful Casey from Coppertail Brewing, this sour is a vibrant hot pink and bursting with fresh Key Lime tartness. We zested over 785 locally sourced key limes for the perfect amount of Pucker Power!
STRAWBERRY BASIL NECESSITIES
3.8% | Bursting with over 50lbs of ripe strawberries and fresh basil, this lush sour is the perfect answer to the Florida humidity.
MANGO STAR
3.8% | Our wonderful Andrea gifted us with over 150lbs of fresh starfruits from her family's property located just down the street from the brewery on Upper Matecumbe Key. Combined with juicy local mangoes, this sour has a clean tart finish.
REEF CRAWL
5.1%, 24.5 IBU | A mango wheat beer that is brewed once a year when the local mangoes are ripe and the Reef Crawl takes place. Similar to a pub crawl, Reef Crawlers make their way from Key Largo to Islamorada exploring the beautiful Reefs, Wrecks, Mangroves & Eco-systems of the Upper Florida Keys. It promotes environmental awareness in the Florida Keys.
GREAT PUMPKIN'S DEMISE
6.7%, 17.5 IBU | Our beer uses pumpkin as well as various autumnal spices to make you think of Mama's pumpkin pie! The Great Pumpkin may have never showed up to see Linus, but he showed up here…and we put him in the beer! This beer has been an Islamorada favorite for years, but be careful as it's smooth and delicious with a unexpectedly high ABV. This one will sneak up on you during the fall months.
RYES OF THE WORLD
7.2%, 91 IBU | Brewed in honor of Jerry Garcia, this West Coast Rye IPA has a full bodied aroma, and strong citrus hop bitterness.
"COLD" FRONT
5.3%, 18.2 IBU | A spiced winter ale with nutmeg, cinnamon, all-spice and orange peel. This beer only comes out during the time of the year when we get those frigid '60 degree "cold" fronts.
BEECH BUM
5.6%, 28.7 IBU | A brown ale brewed with beechwood smoked malts to give a smokey flavor to this malty, smooth beer. Named after our favorite beach bum, Patrick from Beach Bum Paddle Sports.
STARVIN MARVIN
5.0%, 14.1 IBU | Named after our favorite lobster fisherman, this is a dark and murky dunkelweizen with moderate banana and clove notes and a medium body. Released every year on August 6th, the opening day of commercial lobster season.
TRIPEL TAIL
9.0%, 31.5 IBU | A Belgian Tripel with a sweet finish to cover up the high gravity. A triple tail is a local favorite fish. If you see it on a menu, order it!
FLAKEYS
5.1%, 19.8 IBU | Flakeys (short for Florida Keys and named after our mascot mermaid) is a light citrus beer and a local favorite. This is a Belgian wit bier brewed with the traditional orange zest and coriander, alongside local Key limes to give it a keezy flare.
F'IRMA
9.0%, 31.5 IBU | Brewed with stormwater collected from Hurricane Irma, this Belgian Strong Ale packs a smooth, floral full-bodied mouthfeel and finishes with a boozy treat.
BOOBYLICIOUS
Brewed with freshly homemade salted caramel, Boobylicious is a salted caramel milk stout and named after the troublemaking Booby the masked booby housed at the Florida Keys Wild Bird Center!
PELICAN POOP
Our first beer brewed to benefit the Florida Keys Wild Bird Center located in Tavernier, we sourced fresh Florida oysters for this subtly salty, smooth oyster stout. Shucked in house, the soft sea salt notes permeate the stout to highlight the deep dark chocolate malts.
SNIPE'S STOUT
10.5% | An imperial double stout that has been aged in Tennessee's finest whiskey barrels. Named in honor of our dear friend Jack Snipes, aka Big Dick. RIP Jack, your heart was bigger than the ABV of this beer.